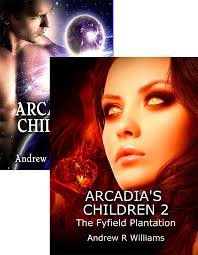 A review of Arcadia's Children 2: The Fyfield Plantation
Arcadia's Children 2: The Fyfield Plantation by Andrew R Williams is the sequel to Arcadia's Children: Samantha's Revenge.
Arcadia's Children 2 : The Fyfield Plantation starts off right at the end of the first book as Mick Tarmy tries to outmaneuver Ed Pushley, a man who is being controlled by a Spettro, which is a mutant humanoid. With the help of Alex, a military droid, Mick struggles to get past the blockade that the Great Ones have set up. Back in Arden, Alton Mygael, the director of the Minton Mining Company Security, tries to stall Samantha, a heartless humanoid, from arresting senior level officers. As Alton plans his escape from Samantha, Mick tries to evade Ed Pushley as well as the Great Ones and the bounty hunters.
Just like the first book, I was instantly pulled into the story. From the action-packed plot to the well-developed characters, I found myself glued to the book as I read about Mick's adventures. While there were some predictable moments in the book, I was caught by surprise by the various twists and turn throughout the story.
Although it is the second book of the series, the author does a good job of explaining what happened in the first book, moreover, I found the characters to be realistic and relatable. Although Mick was blackmailed into going to Arcadia, he manages to fight his way against his oppressors while keeping everyone on his team in one piece. On the other hand, Ed Pushley schemes his way into getting back at Mick, but at the same time, he tries to maximize the amount of money he can make through coercion and deceit.