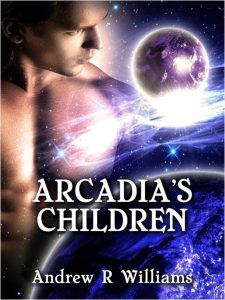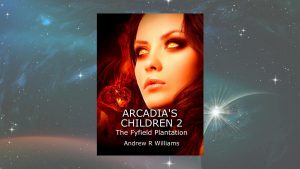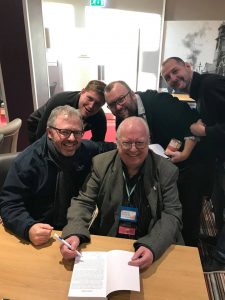 Arcadia's Children 2:
The Fyfield Plantation
By Andrew R. Williams
The much awaited sequel to Samantha's Revenge, Arcadia's Children 2: The Fyfield Plantation is finally here. Of course, I picked it up right away :stuck_out_tongue: I wanted to know what happened 🙂 It's one of Andrew's inherent abilities to pull you into the story and make it realistic like you're living in the Arcadia's World! And yes, finally, the havoc wreaked by Samantha has come to an end, or has it really?
I thoroughly enjoyed the sequel and loved every bit of screen time Tarmy got. Besides Tarmy, I also loved Wren in this book. I loved every minute of their journey and the author made the plot interesting without a lot of technical jargons that's difficult to understand … so anyone can read and enjoy this book :slightly_smiling_face:
Needless to say, the journey was enticing, exciting and exhilarating. Can't wait for what the author comes up with next! Want to know what happened? Not giving any spoilers, you'll have to pick up the book & read :stuck_out_tongue: But I promise it's worth it! Check out the author's link to know more about the author here & here: the two links you gave.
https://www.goodreads.com/book/show/41574445-arcadia-s-children-2
Arcadia's Children 2: The Fyfield Plantation
There are books, you desperately want to get your hands on and this was that book for me. The continuation of the journey that started with the first book. I waited so long for this book and honestly, it has been worth the wait. The author did justice to my expectations.
This book is a world of magic and suspense. It took me to a magical world yet again, an escape that I always seek whenever I pick up a book. Reading for me is like breathing and a book well-written is an addiction and a weakness. I rarely read sci-fi but this book was most definitely worth it. It is a sci-fi thriller that kept me hooked till the very end. It was fast-paced and most certainly would not let you get bored. I finished it in one sitting. There are absolutely no boring moments and is a total page turner and totally recommended if you are into sci-fi or you are looking to try this genre.
This book series is highly recommended for people who are new to the genre of science fiction. I especially loved the author's writing style. If you want your friend to join your fandoms from the science fiction world, this is the place to start. I was very pleasantly surprised. This book is exciting, stimulating, and totally captivating. I honestly loved the writing style of the author. It was easy to understand and very smooth. It was just perfect. The writing style and an amazing plotline made it my new favorite and the point of my obsession.
The plot twist left me staring at a wall, mesmerized. This book is exactly what I need, after all, who could say no to such an exceptional read? It was thrilling and fascinating. I really enjoyed reading the book, one of the reasons being an amazing writing style; easy to understand and flawless. It is extremely hard to find a book that is worth your money anymore, this would totally make every single penny worth it. This is the book you can put on your shelf and cherish it forever. I wouldn't think twice rereading it. It is very rare that I reread a book but this, I definitely would, without a second thought.
This book would totally captivate you and take your place. Careful, it'll keep you up all night, totally hooked but be assured; it would be totally worth it. If you are looking for book recommendations to gift to a book lover, this book series would be your perfect option. I am sure your book lover friend would totally fall in love with it. I am desperately waiting for more books by this author.
This book is totally worth your money and your time and you most definitely won't regret it. This is one of those books that you can proudly make a part of your collection in your library and take it out every now and then. I rarely reread books, but I am unable to put it back on the shelf just yet. Can't wait for more books by this author.
Here are the links if you'd like to follow this amazing author and explore his amazing work:
http://www.authorsden.com/andrewrwilliams
http://www.arcadiaschildren.com
http://thebookmarketingnetwork.com/profile/authorpromotion
http://thebookmarketingnetwork.com/profiles/blogs/book-review-arcadia-s-children-2-the-fyfield-plantation
Sincerely,
Nadia Brown
A&BP